Sleeps 12 - Private hot tub - Cocktail lounge
Oaklands Spa Retreat is a fantastic base for your hen celebration!
Set in the picturesque village of Holmfirth near Huddersfield, where Last of the Summer Wine was filmed, Oaklands Spa Retreat offers the best in opulent luxury. From a large cocktail lounge, perfect for cocktail classes provided by our talented mixologists, and a large cosy sitting room decorated beautifully for a unique backdrop, to an inviting private hot tub under a canopy, Oaklands has all you need for a memorable and amazing hen weekend. Holmfirth also has plenty to offer, with Sid's Café and Nora Batty's steps from the TV series Last of the Summer Wine just a stones' throw away. This is not the only reason people visit however, with breath taking scenery across the Holme Valley, restaurants, wine bars, pubs and walks aplenty. Oaklands Spa Retreat is a fantastic base for your hen celebration.
Prices & Packages
2020 PRICES
Special Deals for September 2020 – December 2020 while government restrictions are in place for 6 individuals or 1 household/support bubble of larger numbers.
2 night stay - ONLY £1000
3 night stay - ONLY £1350
Monday to Friday - ONLY £1000
Lots of September to December weekends available!!
We ask that all guests always follow all government guidance/law at all times and are familiar with this before booking.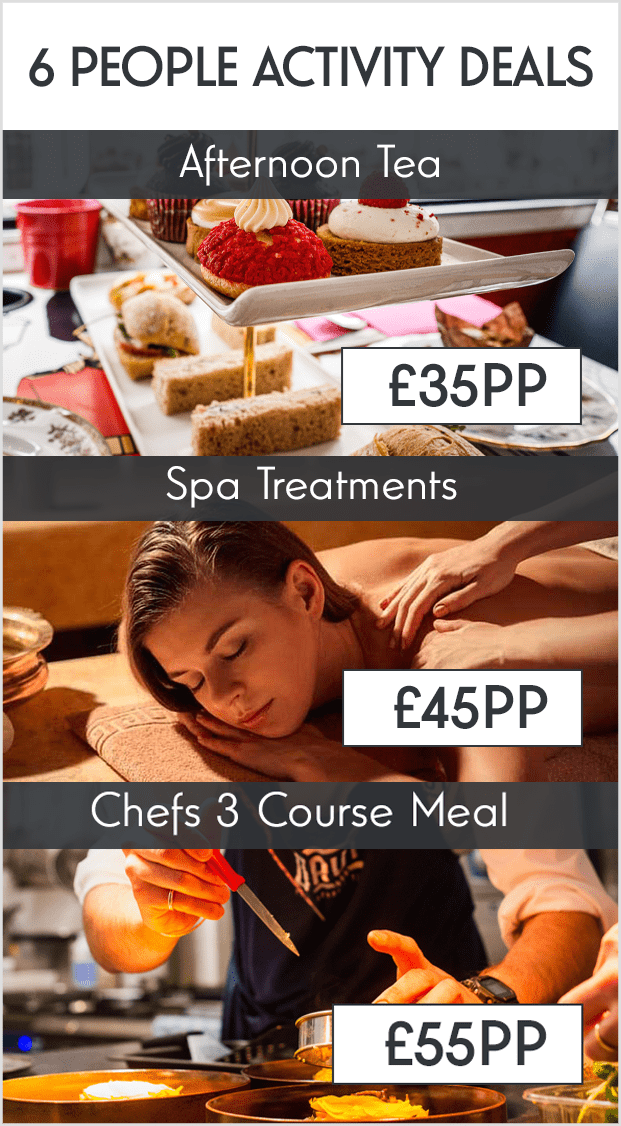 2021 PRICES
HEN PARTY SUNDAYS (Sleeps 12)
LIMITED TIME ONLY OFFER
NO. ACTIVITIES
SPECIAL PRICE
SPECIAL OFFER - Signature Sunday Our most popular package! Arrive at 1pm, afternoon tea on arrival, spa treatments in the afternoon, chefs 3 course meal in the evening
3

£245pp


Only £195pp
MIDWEEK STAYS (Sleeps 12)
| STAY | NO. ACTIVITIES | PRICE |
| --- | --- | --- |
| 1 NIGHT STAYArrive at 1pm, afternoon tea on arrival, spa treatments in the afternoon, chefs 3 course meal in the evening with overnight stay | 3 | £195pp |
| 2 NIGHT STAY Arrive at 3pm, chefs 3 course meal included on one evening | 1 | £195pp |
FRIDAY & SATURDAY 2 Nights Stay (Sleeps 12)
| 2 NIGHTS STAY | NO. ACTIVITIES | PRICE |
| --- | --- | --- |
| Group Photo-shoot at you accommodation. | 1 | £195pp |
| Live Singer at you accommodation. | 1 | £195pp |
| Canapes & Prosecco - on arrival. | 1 | £200pp |
| Afternoon Tea at your accommodation. | 1 | £205pp |
| Spa Treatment at your accommodation. | 1 | £215pp |
| Chefs 3 Course Meal at your accommodation. | 1 | £225pp |
| Cocktail Class at you accommodation. | 1 | £215pp |
Please note: you can add the group photoshoot onto all packages!
MOST POPULAR PACKAGES:
| PACKAGES | NO. ACTIVITIES | PRICE |
| --- | --- | --- |
| 2 nights with a group photoshoot and a cheeky butler | 2 | £215pp |
| 2 nights with a spa treatment and afternoon tea | 2 | £245pp |
| 2 nights with a spa treatment and chefs 3 course meal | 2 | £265pp |
| 2 nights with canapes & prosecco on arrival, a chefs 3 course meal & group photo shoot | 3 | £270pp |
| 2 nights with a spa treatment, cocktail class and live singer | 3 | £275pp |
| 2 nights with canapes & prosecco on arrival, chefs 3 course meal, Sat – Spa treatments, afternoon tea, cocktail class & pizza night | 6 | £355pp |





Oaklands offers spacious and comfortable accommodation which gives a home from home atmosphere the moment you enter. You will find a relaxation area with a waterfall in the gallery style hallway, which gives this property a real touch of class and a spa feel. With immaculate contemporary bathrooms and en-suites, sumptuous beds to relax in, and magnificent views from the hillside overlooking the valley, waking up with your friends to enjoy a hen weekend packed with fun will not be difficult.
 Enjoy a calming spa treatment, have a delicious afternoon tea delivered right to the door, or arrange for a private chef to select and prepare a wonderful three-course meal for you and your group around the custom-made dining table. Sink into the bubbling hot tub under the pagoda with fairy lights, with a glass of prosecco and your girls. There are also two TV lounges, great for curling up under blankets with pizza and wine. An unforgettable hen retreat at Oaklands Spa awaits you.
Hot Tub & Living Spaces
Outside Oaklands Spa Retreat there is a patio area from the main lounge where the hot tub is situated. This is covered by a pagoda which is great to huddle under on cooler evenings, and is dotted with pretty fairy lights which adds a hue of calming light as the night draws in. There is a small lawn area to the front of the property, and a pretty cottage style garden to the rear of the property with a patio area, lovely to sit out in when the sun is shining. You will find ample parking for 5 to 7 cars, this is perfect for bigger groups coming from all corners of the country. Two TV lounges provide a warming escape from the outside world. The cocktail lounge with its colourful walls and swivel chairs, and bar area with lots of seating will make you feel as though you are out on a Saturday night, and is a great backdrop for photos with your girls after sampling your freshly made cocktails and long drinks. Enjoy a one-night Sunday stay at Oaklands with lots of activities included, or plan your itinerary for the full weekend and relax as it rolls by. If you choose to venture out, you can opt for a wine tasting tour and lunch, or visit the famous Ashley Jackson's galleries. Lion Heart's Boutique is great for gifts, and you can stop off for a treat at Longley's ice cream parlour. Return to Oaklands , with stunning décor and plush furnishings, giving you a relaxing sanctuary. Your hen party will be one to talk about!
Key Information & Booking Terms
Facilities
Facilities:
Wi-fi available throughout the property.
Lawn area to front.
Ample parking for 5-7 cars.
Patio area with pagoda covered hot tub
Two TV lounges
Bathrooms: en-suite to the master bedroom on landing 1, main bathroom with large bath, a further bathroom and an additional toilet.
Booking & Reservation Info
Booking Information:
We require a non-refundable 30% deposit via bank transfer or cheque only at the time of booking, and the full balance is to be paid 12 weeks prior to your stay.
Sorry we do not accept credit cards.
We require an additional £500 security deposit for this property aside from your required balance, which is refundable 7 days after you vacate the property provided that there are no damages and house rules are kept to. For further info please see Booking Terms & Conditions
Please note: All bookings are subject to a booking fee of £115 which is due at the time of booking and is non refundable.
RESERVATION SERVICE - Reserve your property by paying a reservation fee of £75 to secure your dates for 5 days to give you chance to get deposits off all your friends and family.
House Rules
Please be aware that this property is in quiet residential area, so we kindly ask that all noise is kept to a minimum outside the property to be considerate to the neighbours We encourage low key celebrations, no wild house parties are allowed.
No extra guests are allowed to attend the property.
Check in time. & Check Out Time
Arrival 3pm Depart 10am
If you would like to arrange an earlier check in or late checkout, we can only organise this for you a few days before arrival as it is subject to same day changeovers and may not be possible if we have guests departing or arriving that same day.
Collecting the Keys & Final Arrangements
After the full balance has been paid – we will email you over all final arrangements.
Activities
If you have booked Activities, our package coordinator will be in touch with you to arrange the times and send you any menus/ spa choices etc, only once the final balance has been paid and numbers are confirmed.
Please note No 3rd party suppliers are permitted at this property unless booked through Celebration Cottages.
Hot Tub
Please note – Any ladies who are pregnant we recommend that you do not use the hot tub.
Please do not use the hot tub if you have fake tan on.
We recommend that a maximum of 15 – 20 mins is spent in the hot tub at any one time, any longer can result in heat rashes or a reaction to the chemicals used in the hot tub.
Hot tub available 10am - 10pm Friday and Saturdays
Hot tub available until 9pm Sunday to Thursdays
A security team will lock the hot tub up.
Please note there will be someone arriving to check the water in the hot tub early in the mornings, but they will try not disturb you.
Security
Please note – At Certain properties there will be a security person who will lock up the hot tub at 10pm.
Types of bookings
Sorry no stag parties.
Please note Bank Holiday weekends you can book:
Friday & Saturday – 2 nights
Sunday & Monday 2 nights
Celebration Sunday – 1 night stay
Celebration Monday – 1 night stay