Sleeps 18 – 27 in 7 Bedrooms  - Games Room with Pool Table & Karaoke - Bar - Private hot tub - Outdoor pizza oven - Massage Room
Picture a vast stunning country home, set in the heart of Yorkshire.
Luxury Lake House Mansion offers the best in opulent luxury and will provide you with a beautiful backdrop for your weekend stay. From the moment you pull up on the long driveway, you will be spellbound by the manicured acres of land that encapsulate the property. This dreamy location will have you thinking you are in a fairy-tale, with a private lake and hot tub, Luxury Lake House Mansion is a spectacular setting for any celebration. Enjoy spa treatments, afternoon tea or a wine tasting evening, the possibilities are endless. Book your stay today at one of our most popular holiday homes.
PLEASE NOTE: Pool Party Barn is now (3 properties) - Main Barn, The Cottage, & The Lodge. The Main Barn has exclusive use of the outdoor hot tub, all 3 properties share pool with time slots given.
12th April – 21st June – Special offers
12th April – 17th May 2021 – Bookings must only be for 1 household group + support bubble
17th May – 21st June 2021 – Bookings must only be for 2 households or 6 individual people
21st June 2021 -onwards – Bookings have no restrictions on households
When placing a booking with us you are agreeing to comply with government law at all times. Please visit gov.uk/coronavirus for all latest information.
A refund less the booking fee / group policy fee would be given if the holiday let had to close by law. We insist you take out your own insurance if you had to cancel the holiday due to illness or being contacted by track and trace – we do not provide this.
2 NIGHT STAY
ONLY £1200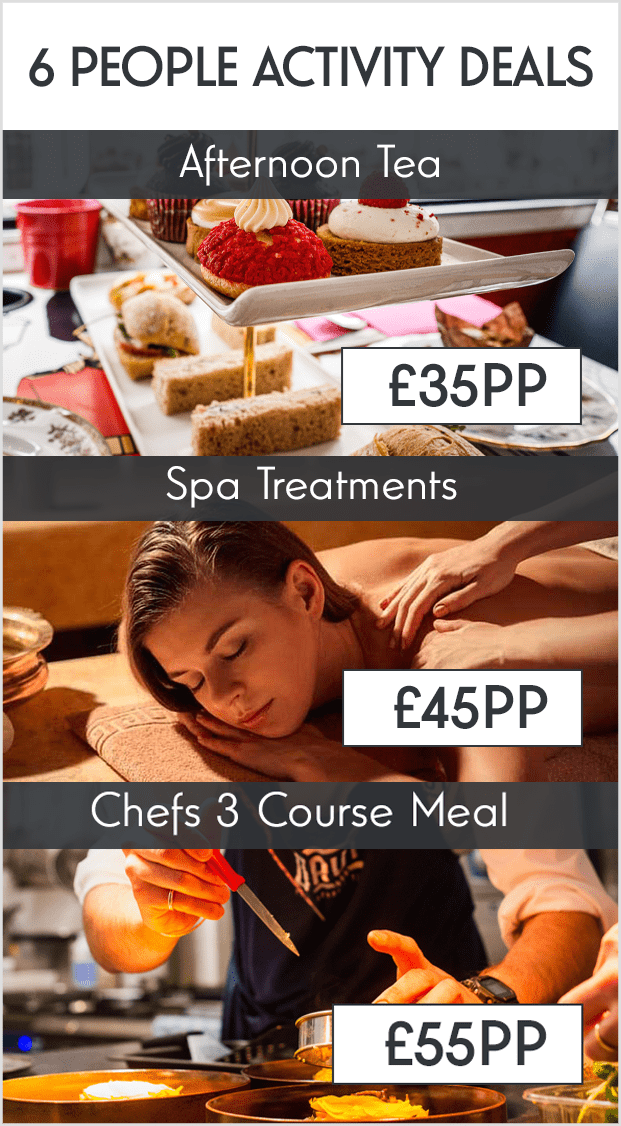 Available to book from the 21st June 2021
SUMMER = April – July WINTER = August - March
FRIDAY & SATURDAY 2 Nights Stay (Sleeps MIN 18 - MAX 27)
PACKAGES
SUMMER PRICE
(April - July)
WINTER PRICE
(August - March)
Group Photo-shoot at you accommodation.
£210pp
£195pp
Live Singer at you accommodation.
£210pp
£195pp
Arrive in Style - Canapes & Prosecco on arrival.
£215pp
£200pp
Bootcamp Fun - fun bootcamp workout
£220pp
£205pp
Pamper Me - Relaxing Spa Treatment
£230pp
£215pp
Tipsy Hens - Cocktail Class at you accommodation
£230pp
£215pp
Sing for your Supper – Live singer with Pizza night
£230pp
£215pp
A Night to Remember – A Cheeky Butler with a Group Photoshoot
£230pp
£215pp
Come Dine With Me - Chefs 3 Course Meal
£240pp
£225pp
Its My Party – Canapes and Prosecco on Arrival, Live Singer, Hot Buffet Supper
£255pp
£240pp
Lets Make an afternoon of it – Afternoon Cocktail Class with Afternoon Tea
£260pp
£245pp
Cheeky Come Dine with me – Cheeky Butler & Chefs 3 course meal
£260pp
£245pp
Ladies that Lunch – Spa Treatment with Afternoon Tea
£260pp
£245pp
Camp & Chef – bootcamp fun workout & chefs 3 course meal
£270pp
£255pp
Its all About Me – Relaxing Spa Treatment and Chefs 3 Course Meal
£280pp
£265pp
Girls in the City – Early Cocktail Class & Pizza Banquet with a Mini Bus to the City & Return Journey
£275pp
£260pp
Celebration Ladies – Canapes & Prosecco on Arrival, Chefs 3 Course Meal, Spa Treatments, Afternoon Tea, Group Photoshoot
£330pp
£315pp
Hen Heaven – Canapes & Prosecco, Chefs 3 course meal, Spa Treatments, Afternoon Tea, Cocktail Class & Pizza Night
£355pp
£340pp
ADD A 3RD NIGHT TO YOU PACKAGE – for only an extra £600
Key Information & Booking Terms